Retro USA Chrome Challenger Trim
An in-depth look at a gorgeous and exciting new product–Chrome body trim–for the Dodge Challenger
Dodge Challenger owners like you and I are adamant about getting the very best for their vehicle–it's the reason we bought Challengers in the first place, after all. We're also almost assuredly fans of good style–again, we drive the Challenger for a reason. These two aspects seemed to come together with this new product, which I was able to see at SEMA this year for the first time and which I have since purchased for myself. It's a complete Chrome Bumper and trim kit for the Dodge Challenger by Retro USA, and it's gorgeous. I like it so much, and am so happy with the look of it on my Redline Challenger, that I had to share it.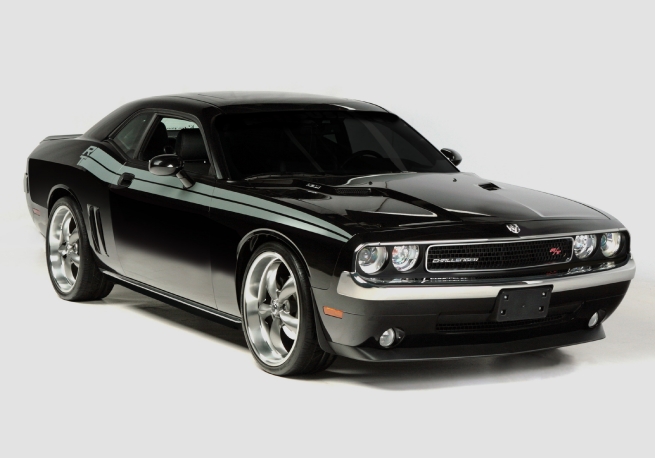 These products are made from incredible materials that provide all of the benefits of classic Chrome, visually, but do so in a light-weight and more affordable way. Each piece is crafted from TPO Acetyl Polymer, which is a form of automotive plastic that well exceeds the quality of the industry standard, and has a thin film of Chrome applied to the top. The Chrome film applied to the TPO is actually made from the same material that classic Chrome pieces are, just in a thin film form. What this means is that the shine and look with never rust, tarnish, or fade in UV light, and is strong enough to easily repel road junk and avoid chipping or cracking. The bumpers are crafted with thermoformed insets as well, which allow for them to sit just off of the body–like the classic Chrome bumpers of the 60's and 70's–and have a more authentic look.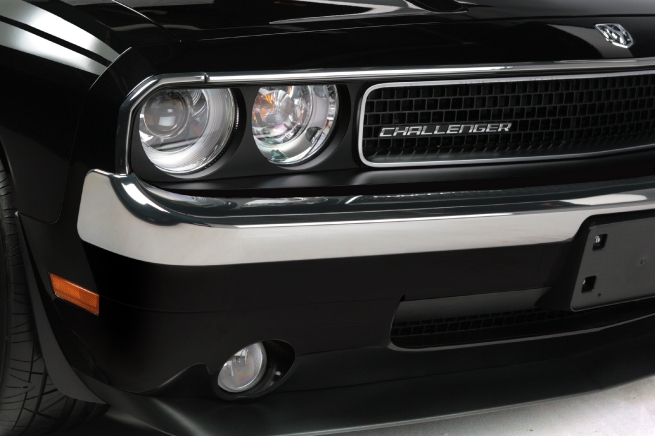 And looks, that's what's really important here. The Challenger has become incredibly popular because of its fusion of classic and modern in its design. The new Challengers utilize a stylistic design that takes the best lines and styles of the classic automotive work of art that was the 1970-74 first generation Challenger and combines them with modern technology and design sensibilities to create something that is equal parts iconic and futuristic, classic and exciting. These chrome pieces from Retro USA are the perfect addition to this look and feel, too, as they do just that.
Chrome bumpers, bumper protrusions, headlight fascia liners, and other trim pieces were all available options for the Challenger between the years of '70 and '74, and the Rallye Challenger famously sported them all with class and style. Sadly, Dodge hasn't continued offering these Chrome touches today, and that's where Retro USA steps in. These bumper pieces are gorgeous and designed to fit the body and curve of the modern Challenger while mimicking the classic look of its first generation ancestor. Each piece has its place and fits perfectly on the vehicle–attaching with 3M automotive tape for an easy installation. They're definitely beautiful and exciting modification pieces.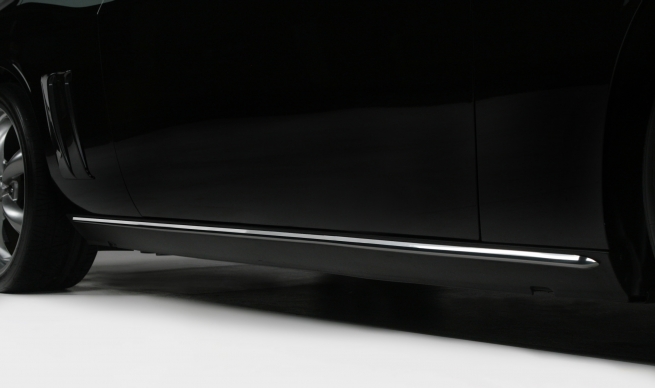 The technology behind them, which I touched upon earlier, is also undeniably impressive. So much so that the praise lauded upon this new product line at 2011 SEMA was just the beginning. The Retro USA product line also became an Automotive Innovation Award Winner. The award cited Retro USA's Chrome-Tech products as "having excellent impact resistance and gravelometer performance, fully recyclable, and offering a lustrous chromed surface while eliminating hexavalent chromium chemicals.  The result is a lighter, less costlybumper cover that is more environmentally benign." This means, ultimately, that these products are not just beautiful, but also high-tech and much more Green than their alternatives which exist on the market today.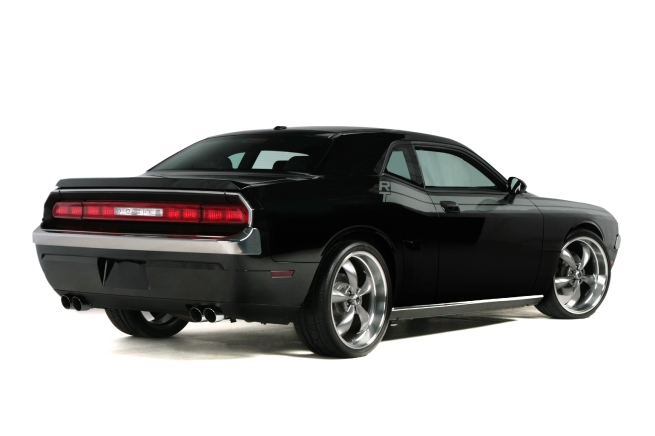 In all, I'm extremely impressed with my complete Challenger kit. I ordered mine from Southern Car Parts, who I tend to always deal with, and received it in a quick and timely manner. In all, for the price and what you get, I give these products–and the complete kit in particular–an A+ grade.